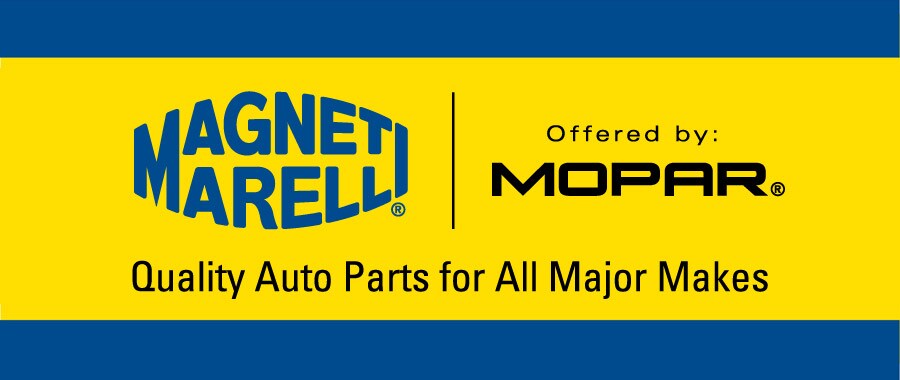 We have Parts for Whatever Kind of Vehicle you Drive
Features and Benefits of Magneti Marelli Brake Pads and Shoes

Milford Chrysler Sales now stocks high quality Magneti Marelli maintenance and repair parts for all major make and model vehicles.

Founded in 1919, Magneti Marelli is a dynamic company, ranked TOP 5 in the world among automotive suppliers.  With an established presence in the U.S. since 1976, the company is a leader in the production of technologically advanced products for today's vehicles.  Magneti Marelli offered by MOPAR provides more than 30 high quality product lines, including filters, brakes, batteries, and shocks and struts to Chrysler Group dealers.

Magneti Marelli gives Milford Chrysler Sales the ability to service all your vehicles, not just your Chrysler, Jeep, Dodge or Ram.  So the next time your Ford, Chevy, Toyota or Honda needs service, bring it to Milford Chrysler Sales and they will be happy to take care of you no matter what kind of vehicle you drive.
Here At Milford Chrysler Sales, We Service All Makes And Models
Whether you are looking for routine maintenance, like an oil change, brake pad replacement, or tire rotation, or you have a more extensive engine, transmission, or A/C repair, our service department, here at Milford Chrysler Sales, is here for you. We work on all makes and models and excel at our off-brand service. We aren't just a Chrysler, Jeep, Dodge, or Ram vehicle specialist, although we know the ins and outs of those vehicles as well, but we also can service every car, truck, SUV, van, or wagon, no matter what brand, make, model, or trim level it is.
Our service department, located in Milford PA and within range of Newton NJ, Warwick NY, Branchville NJ, and Montague Township NJ, is fully stocked with OEM parts, for those that bring us a Chrysler, Jeep, Dodge, or Ram model, and the superior Magneti Marelli parts, for those that have other brand models. Our technicians are highly trained for whatever repair that you require and we have many years of combined experience under our belts.
If you are in need of routine maintenance or a repair, don't hesitate to schedule an appointment using our convenient online scheduling tool. It's simple, easy, and can be done from the comfort of your own home. It allows you to get the date and time that you require with just a few clicks of the mouse and only needs a few contact and vehicle questions answered.